Who Can Save Sandtown?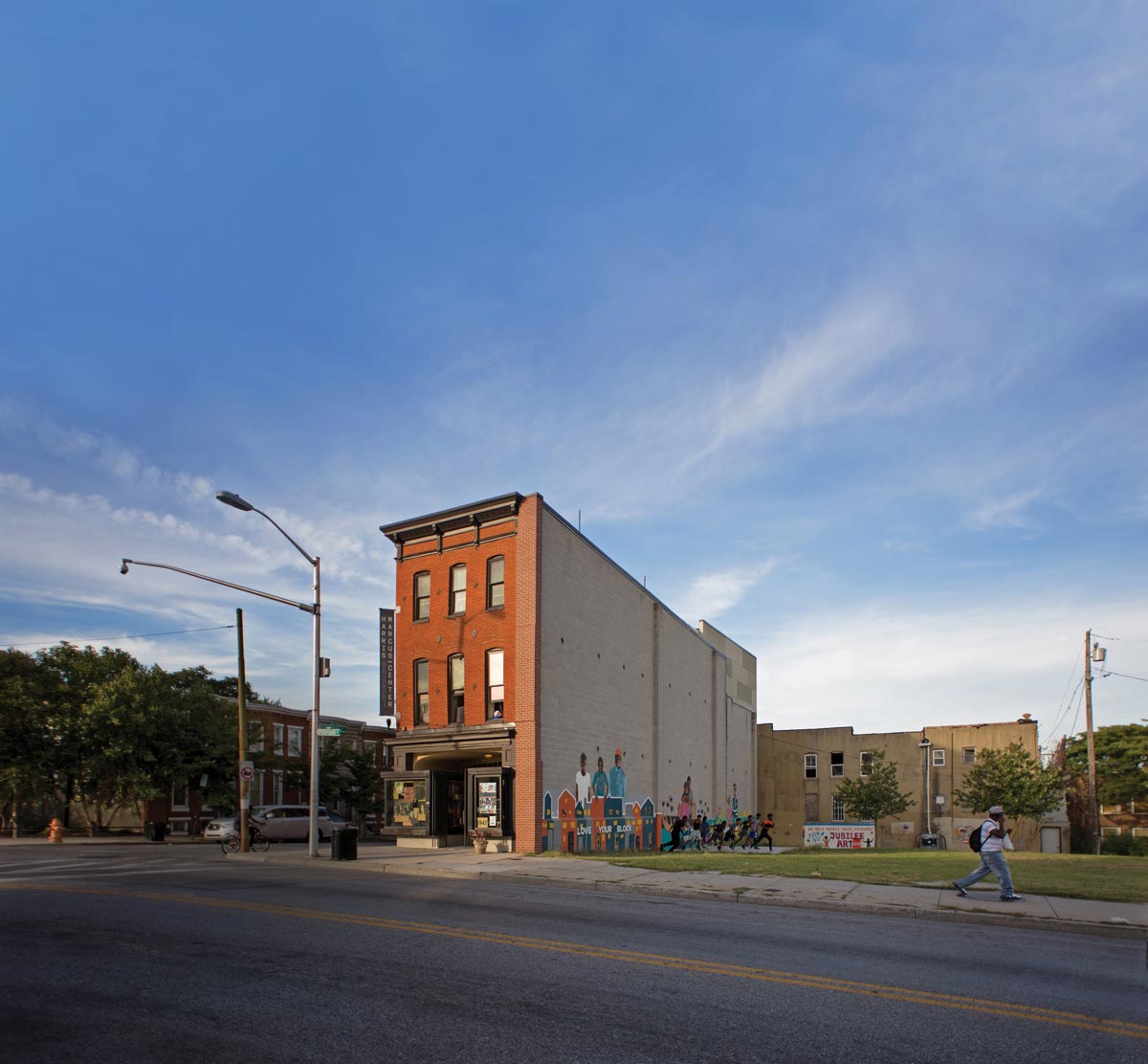 This is as quiet as a city gets.
It's 4:45 a.m. The streets are empty. A mural of "Mr. Charlie," the late community leader Charles Johnson, surveys the stillness on this West Baltimore corner, his face glazed by a streetlamp. Here and there a car passes in a wave of white noise.
A few yards down North Fulton Avenue, Phebe Norfleet opens the turquoise door of her Formstone rowhouse and sits on the stoop. She wears her work uniform—a muted dark blouse and pants—but her personality shows through in a lock of hair curling up from under her Ravens hat, and purple and gold feathers hanging from her earrings.
Phebe works as a housekeeper at the Greater Baltimore Medical Center (GBMC) in Towson, six miles away. Her shift starts at 6 a.m. It's an eighteen-minute drive, but like four out of ten residents in her neighborhood, Phebe doesn't have a car. She could walk five blocks up to North Avenue, catch a quick eastbound bus, then transfer north at Charles Street, putting her at work in a little over an hour. That's how she goes on the weekends when her husband, George, walks with her.
But a temp agency just placed George on the overnight shift at a Pepsi bottling plant in Woodberry, so during the week Phebe gets on a bus that stops right across the street. It goes south, toward downtown, and lets her off at Charles and Baltimore streets, where she transfers to the 11 bus and turns northward again. This adds ten to fifteen minutes to her commute—more if the bus is running late, which she says it is maybe two or three times a week. But it saves her from having to walk across Sandtown-Winchester alone. She doesn't even leave her stoop to cross the street until she sees the bus headlights.
"I don't like to go places by myself," Phebe says. She says that more than anything else, she's afraid of the police, who view anyone on the streets at night with suspicion.
The police's treatment of local resident Freddie Gray, and the unrest that erupted following his funeral in April, have brought Phebe's neighborhood worldwide infamy. Even before April, however, Sandtown had established itself as an emblem of everything that's not working in Baltimore City, from joblessness and drug addiction to gun violence, police brutality, and mass incarceration.
But for residents like Phebe, this is home. She didn't grow up here: She's from the South Baltimore neighborhood of Cherry Hill. In 2006, a friend told her about a program called Sandtown Habitat for Humanity that used volunteer labor to rehab derelict homes for low-income residents. Phebe applied for a Habitat house that October, and soon she and her family and friends were putting in more than 300 hours of "sweat equity" on a Fulton Avenue shell. "I did mortar, worked with circular saws," Phebe says. "It makes you value it a little more."
Phebe moved into her house the following December. Today, the skinny, two-bedroom rowhouse feels spacious and homey. It has an open floor plan and a warm living room. There are trees and birds stenciled on the white walls. She says her monthly mortgage payment is $242. It's a no-interest loan. Despite the recent surge in violence, Phebe says she feels safer here than in Cherry Hill. "I have wonderful neighbors," she adds.
To an outsider, this might come as a surprise. Because Sandtown has become an icon of urban dysfunction, there's a growing conversation about how we can "save" it. But any would-be-saviors from outside the neighborhood must realize two things. One is that a good model for saving Sandtown already exists inside Sandtown. The other is that the impulse to "save" is really an impulse to fix, and, as Phebe Norfleet's protracted daily commute suggests, you can't fix Sandtown until you fix the region as a whole.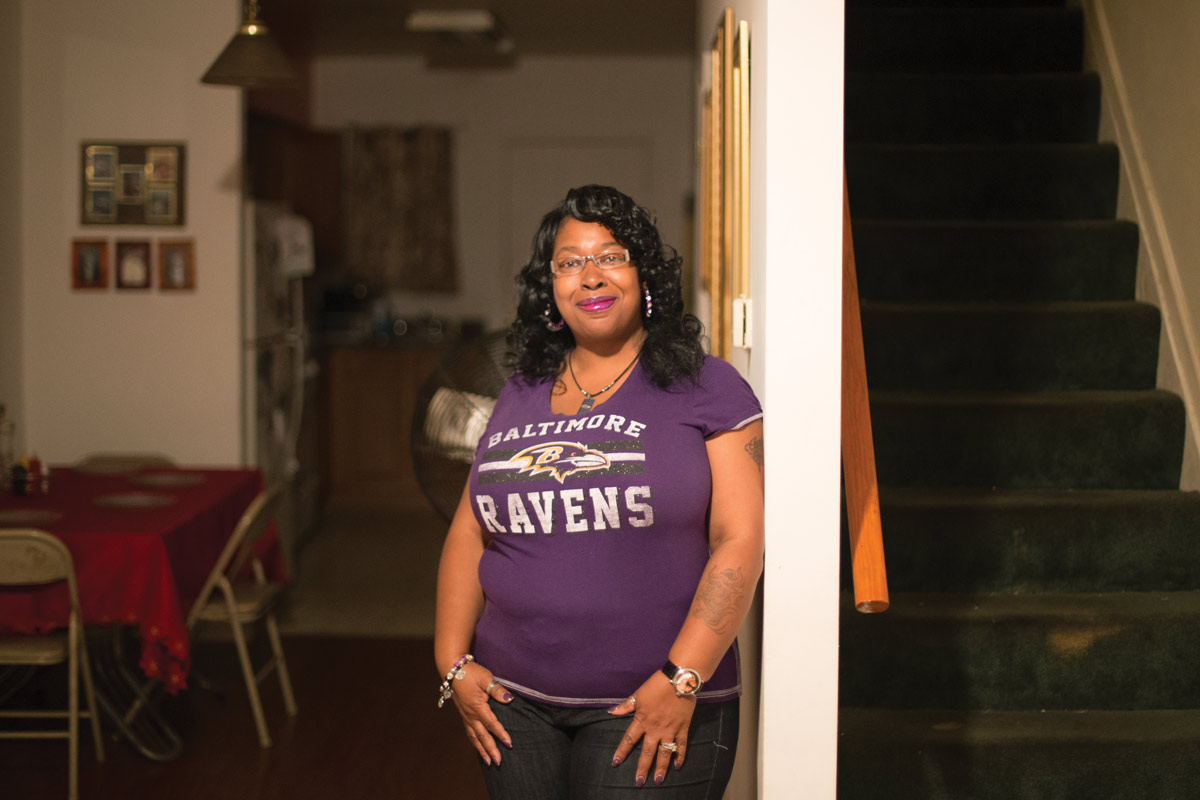 Long before Freddie Gray's death drew the eyes of the world to Sandtown, a coalition of public and private interests undertook a massive effort to put the neighborhood back on its feet.
It started in 1989, with Kurt Schmoke, Baltimore's then-mayor, and James Rouse, a developer who built the town of Columbia, Maryland, around ideals of equality and inclusivity and later developed Harborplace. The duo brought together Baltimore City, Rouse's nonprofit Enterprise Foundation, and a coalition of local churches called Baltimoreans United in Leadership Development (BUILD). The team aspired to "change all of a neighborhood's broken systems simultaneously: housing, education, employment, health care, human services, public safety, and commercial real estate."
The coalition's goals were ambitious—in retrospect, too ambitious: Knock unemployment from 22 percent to 9 percent; push the proportion of students meeting state education standards from 10 percent to 95 percent; eliminate "blatant drug dealing;" and reduce crime "to the level of that in typical middle-income neighborhoods."
Over the next decade, the project modernized public housing at Gilmor Homes, built and renovated hundreds of affordable houses, reformed the curriculum at three elementary schools, created leadership development programs, started job search and training organizations, renovated a community center, and started youth recreation programs. By 2000, public and private entities had poured $130 million into Sandtown.
As the years went by, however, a chasm grew between residents and project staff from outside the neighborhood. That's what Howard University law professor Harold McDougall found when he studied the project in the early 1990s for his book Black Baltimore: A New Theory of Community. "They had these charettes to try to get community buy-in on ideas they'd already generated," McDougall says of the coalition. "People would come once or twice, then attendance would fall away."
McDougall says projects like this need residents to feel a sense of connection—and autonomy. "You have to immerse yourself in a community," he says, "before you figure out how to fix what you think is wrong."
The millions of dollars produced plenty of housing and other tangible "deliverables" that foundations and government agencies like to see. Where the coalition fell short was preparing local residents to build on the project's successes. A 2001 Enterprise Foundation report noted that "lasting social change" requires a "shift in power—one that allows residents to mobilize resources, influence rules, and control the institutions that affect their lives." That didn't happen in Sandtown.
Instead, the report found, the more powerful players in the partnership "viewed the community structure as weak." They gradually shifted away from community building and tried to push changes through more quickly. Residents, increasingly left out of the process, wondered why results were so slow to materialize. There was new housing, but not enough new economic opportunity. Over time, "mistrust and resentment" grew.
"By not investing in indigenous organizations or using them strategically," the report said, the project "missed an opportunity to build grassroots capacity and ownership—elements that are crucial for long-term success."
In 2013, sociologists Stefanie DeLuca and Peter Rosenblatt evaluated the project and found that the needle had moved in Sandtown, but it moved both ways. Elementary school student achievement improved, but Sandtown students' gains trailed those of other comparable neighborhoods in the city. Crime dipped, but it dipped across the city, too. The poverty rate dropped eight percentage points, but it dropped as much or more in Greenmount East and Penn North/Reservoir Hill.
One of the most promising indicators was the homeownership rate, which rose from 24 percent in 1990 to 36 percent in 2009—yet even that came with a downside. "The increase in homeownership looked significant," DeLuca says, "but it seems to have made some homeowners vulnerable." When the real estate market collapsed, Sandtown had more foreclosures than any other neighborhood in the study: more than 350 between 2008 and 2010.
One-third of Sandtown's housing units sit vacant today, according to Deluca and Rosenblatt. There are no bank branches here. Only one in twenty Sandtown adults has any college education at all. One in ten is on parole or probation. Life expectancy is only 65 years. (Just a few miles away in Roland Park, it's 83 years.) In the hundred days after the April 27 riot, the neighborhood saw fourteen shootings and three homicides.
Whatever its progress since 1989, Sandtown still looks from the outside like a neighborhood in desperate need of a major transformation.
"You have to immerse yourself in a community before you figure out how to fix what you think is wrong."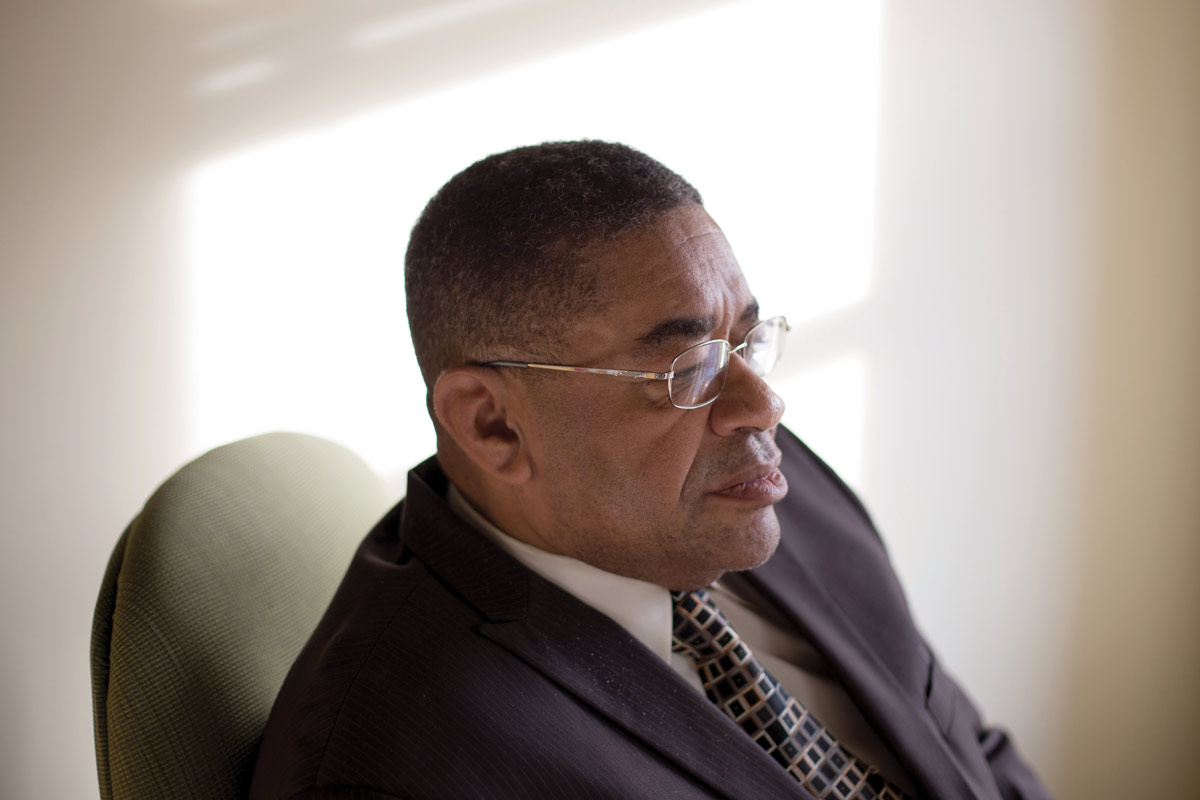 Elder Clyde Harris looks out the window of his third-floor office at Newborn Holistic Ministries. There, at the intersection of Pennsylvania Avenue, North Fremont Avenue, and Presstman Street, he sees a triangle park with a fountain and beautiful landscaping. But it wasn't always this way. "We call this 'Resurrection Intersection,'" Harris says. "I wish you had seen this back in 1996, brother. I walked across the street here, and there was a gang war."
Newborn Holistic Ministries and its partner, New Song Community Church, have a major footprint in the northern half of Sandtown. There is an innovative pre-K to 8th grade school called New Song Academy, an arts center, an addiction recovery home, and an urban farm that employs five neighborhood residents. Sandtown Habitat for Humanity, which was created by New Song founders Allan Tibbels, Susan Tibbels, and Mark Gornik and merged in 2014 with Habitat for Humanity Chesapeake, has now finished more than 300 homes.
The leaders of these homegrown efforts got some momentum in the 1990s from the Schmoke/Rouse project, and they're happy to work with the government to bring resources to the area, but there is a palpable skepticism of outsiders. It's not that outsiders aren't welcome or that their help isn't needed. But there are high expectations. New Song follows a model called "Christian Community Development" that encourages middle-class whites and African Americans to move to the community.
"You don't find many," says Harris. "There's a dedication, what we call a lifelong commitment for those who relocate, and lifelong is to see a child from birth through college."
New Song seeks "returners," or locals who rode their success to more affluent neighborhoods, and "relocators" who grew up in more stable communities. If white folks want to start a program in the neighborhood, they're expected to tap someone from the neighborhood as a co-director.
"That, to me, is the way to go," says Prudence Brown, a consultant with a long background in "comprehensive community initiatives" who co-authored the 2001 Enterprise evaluation of the Schmoke/Rouse project in Sandtown. "I'm attracted to the New Song philosophy. You need relationships and local leadership to have anything happen of major import."
But resources are meager compared with the need. There might be 300 Habitat houses in Sandtown, but there are more than 800 vacants. With unemployment so high—22.7 percent as of 2013—many Sandtown residents can't even picture aspiring to homeownership. And in contrast to the 1990s, public investment in even basic services is sorely lacking.
"We can't even get sanitation workers to come through a couple times a week and empty trash cans," says Ray Kelly of the No Boundaries Coalition, a community association that includes Sandtown and nearby neighborhoods of different racial and economic makeups. "We actually don't have trash cans on most of our corners. Most of the bus stops don't have benches. It's hard to convince people that we can make change, that things can get better, when they see things like this."
Residents are trying to organize themselves to attract more outside resources. The Sandtown Resident Action Committee recently became active after a period of dormancy, and this summer it merged with a new group, Sandtown-Winchester United, that has been holding frequent meetings since the death of Freddie Gray. But there is nothing in the pipeline even close to the scale of what happened in the 1990s.
"What does it take, realistically, to change the real estate and human capital and all the social systems that neighborhoods need?" asks Diane Bell-McKoy, the president and CEO of Associated Black Charities, who was involved in the earlier transformation initiative as an aide to Mayor Schmoke. "What is the price for that?"
Clearly it's more than $130 million. Bell-McKoy points to East Baltimore Development Inc., where she served on the board until resigning last year. EBDI has spent $546 million of a planned $1.5 billion to transform (displace, some would say) a poor black community that, unlike Sandtown, has a major university anchor in Johns Hopkins. Mike Kelly, executive director of the Baltimore Metropolitan Council, says EBDI is having a spillover effect in the nearby Oliver neighborhood, attracting developers with private capital. "It's created a housing market where one didn't exist," Kelly says.
However, the statistics in the area encompassing Oliver and EBDI still look much like Sandtown's: A third of residential properties were vacant in 2013, and poverty rates were above 30 percent.
Mike Kelly and Prudence Brown suspect any transformation of Sandtown will take generations to unfold. "The conditions in these places were not created overnight," Kelly says, "and they won't be solved that way."
And whatever happens to spark that transformation will have to extend beyond the borders of Sandtown.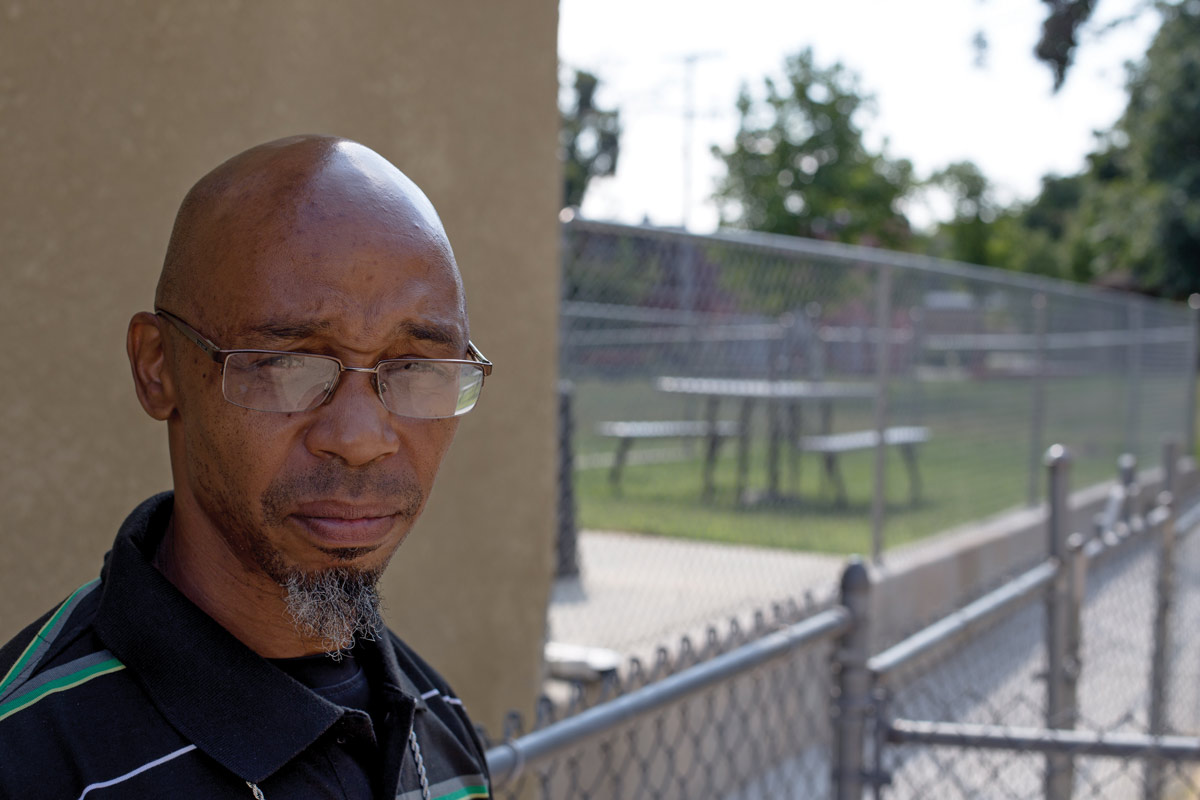 Around the same time that Schmoke, Rouse, and their coalition were trying to rebuild Sandtown, an effort was under way to improve the prospects of poor African Americans by moving them out of the inner city.
In 1992, the U.S. Department of Housing and Urban Development (HUD) launched "Moving to Opportunity," an experiment that gave vouchers to Baltimore public housing residents to use in the private market in low-poverty neighborhoods. A similar experiment in Chicago two decades earlier had moved black families from public housing to more racially integrated private housing, mostly in the suburbs, with some success.
Early research on the Moving to Opportunity experiment was disappointing, showing some benefits for health, but not much for wealth. An August 2015 study led by Harvard economist Raj Chetty, however, compared children who moved to the suburbs through the program in the 1990s to a control group and found higher college attendance rates and $3,500 in extra annual earnings.
Today, the "mobility" approach is getting new life, thanks to two federal court rulings. In January 2005, a federal judge ruled that it would be impossible "to effect a meaningful degree of desegregation of public housing by redistributing the public housing population of Baltimore City within the City limits." He directed HUD to deal with Baltimore public housing regionally. As a result, the Baltimore Housing Mobility Program is helping hundreds of poor families settle in affluent suburbs.
The second ruling came in June, when the Supreme Court sided with fair-housing advocates who argued that a Texas housing agency had violated the Fair Housing Act when it denied tax credits for affordable housing developments in white parts of the Dallas region. Two weeks later, HUD announced a new rule that puts more pressure on governments to comply with fair housing rules, meaning that more families of color may soon be able to find affordable housing in "communities of opportunity."
It's progress. Research shows that poor, inner city neighborhoods can be difficult to escape: A recent study by New York University sociologist Patrick Sharkey found that "over 70 percent of African Americans who live in today's poorest, most racially segregated neighborhoods are from the same families that lived in the ghettos of the 1970s."
Providing a way out from places like Sandtown, however, doesn't do much for the people left behind. Recognizing this, a regional consortium of county governments, nonprofits, and universities has a plan that could begin to bridge the gap between increasing mobility and investing in underserved communities. Called the Opportunity Collaborative, the group used a HUD grant to create a development plan for the Baltimore region.
The aim is to coordinate housing, workforce, and transportation policy to create a more sustainable, inclusive economy, says the Baltimore Metropolitan Council's Kelly, who spearheaded the project.
The plan, released in May, suggests investing in areas, mostly clustered in Howard and Anne Arundel counties, that are already integrated racially and economically, and working to create more areas like them. But places like Sandtown may require a different approach, Kelly says: "If we can't bring more opportunity to people, we want to connect them to opportunity outside the neighborhood."
Sandtown workers have the longest average commute in the city, according to the Baltimore Neighborhood Indicators Alliance. That burden can be alleviated, Kelly says, with better transit and by training residents for the kind of jobs that can be reached with our existing transit system.
The burden of the current system becomes obvious watching George and Phebe Norfleet scrambling around the region every day between 4 and 6 a.m. But as they know all too well, the long commutes aren't the only factor keeping opportunity out of Sandtown's reach. During the 1980s and 1990s, George ran drug shops in South Baltimore. He has stayed out of trouble since he came home in 2003 from his second prison term for dealing drugs and violating probation, yet his criminal record has made finding work difficult.
George has been unemployed for stretches as long as eighteen months. Recalling one such period, he says, "I sat back behind a computer shooting out resumés like a quarterback, but nothing was being caught."
The Opportunity Collaborative found that one out of five job seekers in the region lists a criminal record as a barrier to employment. In neighborhoods like Sandtown, small decisions made in other parts of the region can make a big difference to those facing barriers like a criminal record or inefficient public transportation.
George's temp agency, Kelly Services, is willing to take on ex-offenders. Not long after Phebe started at GBMC, the Maryland Transit Administration began sending the 11 bus onto GBMC's campus rather than dropping passengers off on Charles Street, which saves Phebe 20 to 30 minutes of walking and a dash across six lanes of 40-mile-an-hour traffic. The hospital allows Phebe to work either from 6 a.m. to 2:30 p.m. or 6:30 a.m. to 3 p.m., which keeps her out of trouble if one of her buses runs late.
Maybe those small decisions were made with racial equity as an explicit goal. Maybe not. But transforming the region from one that keeps producing segregation and inequality to one that offers opportunity will require asking questions about racial equity at all levels of policymaking, says Diane Bell-McKoy. "Is that what the residents want?" she asks. "Do we know it'll make a difference? Who was on the ground as part of the protests who can inform us?"
"What does it take, realistically, to change the real estate and human capital and all the social systems that neighborhoods need? What is the price for that?"
At 4:53 a.m., Phebe Norfleet spies two wide-set headlights coming south on Fulton, and she crosses the avenue's six lanes to catch her bus. With Sandtown so dark and the bus so bright and empty, the windows only reflect a chaotic web of yellow handrails.
After a few minutes, the lights of downtown cut through, and at 5:10 a.m., Phebe steps off the bus at Charles and Baltimore streets. Behind the bus stop, three homeless people sleep beneath the four-story Ionic columns of the old Savings Bank of Baltimore. At 5:16 a.m., the northbound bus pulls up. Phebe sees some regulars onboard: There's Miss Annabel, a GBMC coworker, and a woman who works at Sheppard Pratt.
Several minutes later, the bus approaches North Avenue, and Phebe smiles. One recent morning, George had surprised her at this stop. His Pepsi shift had ended early, and as he walked west on North Avenue, he called Phebe to see where her bus was. When the bus stopped at North Avenue, George got on, planted a kiss on her, and got back off.
The bus rumbles north for another fifteen minutes. At 5:43 a.m., the dimmest dawn breaks. Through a green-gray smudge of fog, a street sign emerges: Bellona Avenue. Baltimore County. The bus continues past the brick duplexes of Rodgers Forge, where many Baltimore City parents migrate to raise their families and keep their children out of the city's underperforming public schools. Then Phebe heads up Charles Street, past the patch of deep woods enveloping the lavish homes of Ruxton. Then a right turn for GBMC. Just after 6 a.m., the bus stops, and Phebe disappears into a crowd of employees entering the front door of the hospital.
A hospital is a place where all lives matter, where people from all over the region work together to make those lives as long and healthy as possible. At 2:30 p.m., Phebe will walk out those doors and wait for another bus to take her back to a place that most people here in Baltimore would rather not think about, a place where lives are constantly at risk, a place where people, nearly all of them black, are trying to convince the rest of the world that their lives matter at all.
EndBud.